Bring Your Idea To Life
On your own. Without knowing code. Without spending thousands of dollars.
I remember building my first app. It was a tool to help you search for any hashtag across any social media channel.
At the time, I had some design experience, but I'd never built a full app before. I was nervous. I was intimidated. But I was determined to figure out.
For months, I worked on that app, scrolling through countless tutorials, searching for the perfect blog post, watching video after video to help me through the process.
I knew it would cost thousands of dollars to hire a developer, so I forced myself to learn to code and became technical enough to build it on my own.
It was long, it was frustrating, and it just didn't have to be that way.
I finally did build my app, but I knew that I could've built it faster, better, more efficiently if I had a guide and the right set of tools to help me get there.
This course is that guide.
After spending years working on award-winning apps for myself and clients, I know exactly what it takes to build, not just any app, but an app people will love.
You've probably already considered hiring developers and designers to build your app. That can cost over $50K, and even over $100K. But the truth is, you don't need to spend all that money to make your app.
You might have considered learning how to code. But that can take months, even years, and the truth is, there are plenty of powerful ways to build your app without code. You don't need to spend all that time learning to code.
You've probably already been Googling your way through building your app, looking at articles, tutorials, and videos to make sense of it all. But the amount of information out there has probably left you more confused and overwhelmed than when you started. You don't have to spend all that energy researching the right answer.
I've synthesized all that I've learned over nearly a decade of designing, building, and launching apps into this course to help people who are where I once was: excited about an idea, eager to bring it to life, but unsure of where to start.
I know how it feels to have an idea keep humming in the back of your mind, and at the same time, feel intimidated by the process.
And that's why I created this course, to help you finally bring your idea to life.
If you're done dreaming and ready to work, keep reading and enroll in the course today.
This course will arm you with everything you need to finally make your app.
Process
Guide you on planning, visualizing, building and launching your app.
Terminology
Explain key terms and technologies as it relates to making apps.
Tools
Introduce tools and languages to build your app with or without code.
You'll learn the exact 6-step blueprint I use for making an app.
Phase 1: Idea

Define the problem, solution, and motivations behind your idea.

Phase 2: Scope

Define the core features for the first release of your app.

Phase 3: Validate

Determine if potential users want what you're building.

Phase 4: Design

Start visualizing your app through sketches and digital mockups.

Phase 5: Build

Gain an understanding of what options there are to build your app with or without code.

Phase 6: Launch

Become familiar with the process for launching on the web or in the app store.
You'll also get guided exercises, tutorials, and walk-throughs of an app I built from scratch, without code.
Exercises
Start working directly on your app idea with guided exercises.
Tutorials
Walk throughs of tools and examples to guide you along the way.
Examples
Walk throughs of how I approached an app from scratch.
Online Access
Learn from anywhere and anytime, no need to travel.
Self-paced
Learn at your own pace with online access to the course.
Private Community
Join a supportive online community of beginners like you.
I've already helped many people get started through past workshops. And I'm just getting started.
"I recommend this workshop to any new founder. I feel more confident in moving forward to developing a no code app for my business. Kim did an amazing job providing great material and overview to building your own app. Kim was very knowledgeable, friendly, and patient. Kim did a great job leading and coaching us through."
~ Emma
"Kim walked us through the phases of planning, creating, and launching an app. I came in with no idea on how to start the process and left with the many options that I could implement immediately. I highly recommend."
~ Doreen
"Kim was fantastic. She was very thorough and was able to explain everything so that everyone with no coding or app experience could comprehend. I left the workshop excited about the process of app-building!"
~ Dez
Hi! I'm Kim. I'm an award-winning designer and developer. Over the past decade, I've designed, built, and launched multiple apps from scratch.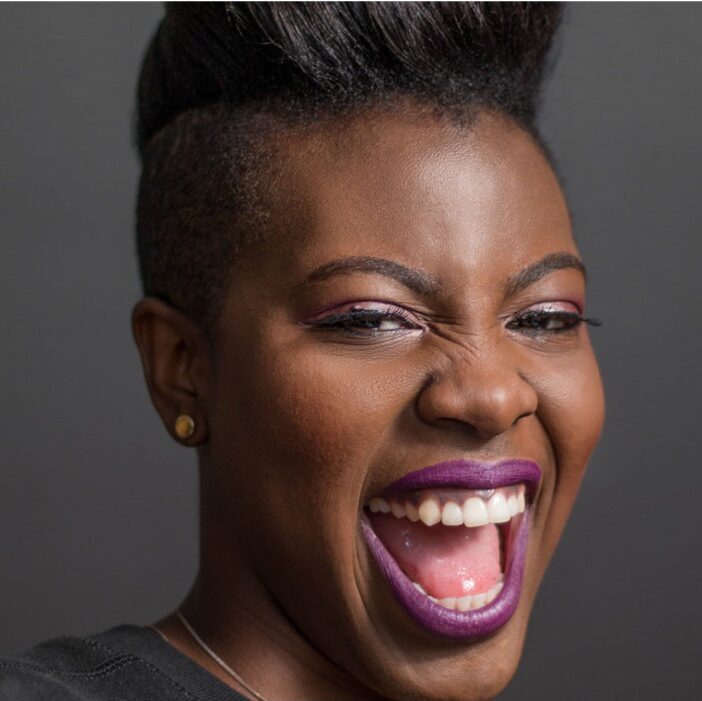 Kim Goulbourne
@madebybourn
Because of my work, I've spoken on the TEDx stage, my work has been featured in podcasts and publications such as Bustle, I've been a curator for a tech magazine, judged The One Show, and taught code at General Assembly.
Before making the leap to start my own studio, I worked with top creative agencies and product consultancies, such as RGA, Ogilvy, and thoughtbot, helping startups and established businesses build their digital presence.
Now under my venture studio, Bourn, I create stuff I want to exist, and help others do the same.

"As your instructor, my goal is to empower you to bring your idea to life by providing you with a framework that gives you the confidence to move forward."
This course isn't for everyone. You should take this course if:
You're non-technical or new to creating apps.


You have an idea you're excited to bring to life.


You're overwhelmed or unsure of how to get started.


You need structure and guidance to move forward.


You're done banging your head against the wall.
Get lifetime access to the course and bring your idea to life for only $249.
Lifetime access to course
Exclusive online community
Self-paced curriculum
10 Guided exercises
12 Examples and tutorials
Private coaching options*
Pay in full today
1 Payment of $249
Payment Plan (monthly)
2 Payments of $129
7-Day Money Back Guarantee
If for any reason you aren't happy with the course within 7 days of enrolling, shoot me an email for a full refund.
You might be asking yourself, can't I just Google this or watch YouTube videos?
Of course you can! That's how I got started. But not everyone has the countless hours it took me to figure it all out.
I'm offering you a shortcut to finally bring your app idea to life by providing structure and guidance around a process that has prevented others from moving forward. My goal is to make sure this doesn't happen to you.
Is this course applicable for any type of app?
Yes! This course is meant to set the foundation for any type of app. When it comes time to build your app, that's where things will start to diverge but we won't be building your app in the course. We will cover the terminology, technologies and platforms you can use to do so.

That said, apps that include AR/VR, Mobile games, Algorithmic feeds, AI, Complex computations, data analysis or tracking are more complex. The information related to building or launching your app may not be applicable.
Will I get to build the app?
We will be covering the options you have to build your app with or without code. You will also get in-depth tutorials on the no-code platform, Adalo, so you can build your app during or after the course.

Do I need to know how to code?
Nope! This course is geared towards those who aren't technical, don't know how to code, or don't understand the end-to-end process of making an app. The goal is that by the end, you'll have more technical knowledge than when you started. You'll be able to decide if you want to use no-code tools, learn to code or hire someone to do it for you.
Will I have access to you to ask questions?
Yes! You can either purchase private, one-on-one coaching sessions or ask questions directly through the community.
Is this a live course?
This course is completely self-paced. The only parts that would be live are the private, one-on-one coaching sessions that have to be pre-scheduled.
How long is the course?
The content itself can be consumed in one day, but to complete the exercises and tutorials, it should take you about 1-4 weeks depending on how much of your app you decide to tackle.
What if I buy the course and realize it's not for me?
Every purchase comes with a 7-day money back guarantee. If you realize this course isn't for you, you can shoot me an email for a full refund within 7 days of enrolling.
Not ready to enroll? Start with my 6-Step Intro Guide.